Main content starts here, tab to start navigating
Get Rewarded
The best way to be a part of our family is through Scratch Kitchen rewards. Being a member of our rewards program is an awesome way to get free food and other special offers. Earn points on every purchase and take advantage of member-only offers and benefits.
Enjoy FREE DELIVERY on delicious food from all of our restaurant concepts when you sign up!
Sign Up
Get Treats For Free
1,000

Basic Add-on

Add a little treat with a housemade cookie, brownie, or bag of chips.




1,500

Premium Add-on

Make it a meal with a dessert, drink, or side.




3,000

Entree

Choose from our Mains on Kin, Mains and Tacos from Casera, a Salad or Bowl from Greenlight, or a Sandwich from Club House.




3,750

Entree + Basic Add-on

Add a free entree and a little treat like a cookie, brownie, or bag of chips.




4,250

Entree + Premium Add-on

Add a full meal with a free entree and your choice of a dessert, drink, or side.




5,750

Two Entrees

It becomes a treat for two when you add TWO free entrees.



FAQ
I can't find my point totals or available rewards. Where are they?
They're on your account page.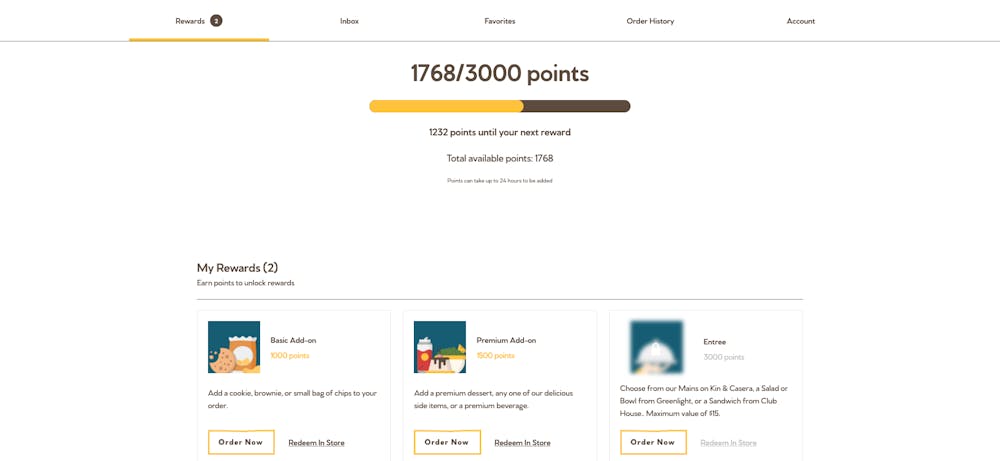 Can I use multiple rewards on the same purchase?
No. You can only redeem one reward per purchase.
Why aren't my points showing up?
Points usually post to your account within 10 minutes of your purchase. If you do not see your points accumulating, please reach out to our customer service team.
Do my points expire?
Yes. If you are inactive in your account for 6 months your points will expire. Simply make a purchase within the 6 months of your most recent purchase and all rewards will stay current.
How are points calculated?
Each $1 spent is equal to 17 points.
Sooo...what exactly can I get with each reward tier?
BASIC ADD-ON

Any Cookie

Brownie

Any Boulder Canyon bag of chips

Any Kettle bag of chips




PREMIUM ADD-ON

Coconut Chia Pudding

Vegan Chocolate Pudding

Berries & Cream

Any item from the 'Sides' group on

Casera

Kin & Co.

Club House

Any drink under SK Beverages




ENTREE

Any Item from the following groups

Casera

Kin & Co.

Club House

Greenlight




*Entree rewards have a $15 maximum